Special Accomplishments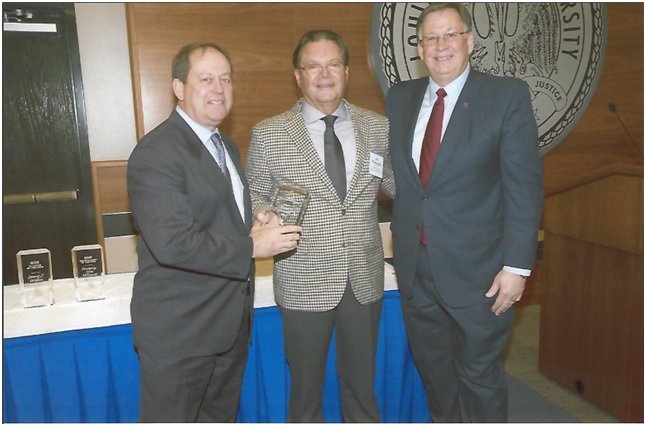 Psalmonds named 2018 College of Business Alumnus of the Year
Joseph B. Psalmonds, Jr., '73, founder and president of JPJ Investments, has been named Louisiana Tech University's 2018 College of Business Alumnus of the Year. He was honored alongside fellow distinguished alumni at the Louisiana Tech Alumni Association's annual Alumni Awards Luncheon Oct. 19.Joe Psalmonds
"We are thrilled to honor Joe's achievements, generosity, and dedication to the College of Business," said Dr. Chris Martin, dean of the College of Business. "Over the years, he has been one of our biggest supporters — from providing our students with internships and job opportunities to being a founding member of the Dean's Advisory Board. I am grateful for everything he and his wife, Angie, have done."
Psalmonds came to Louisiana Tech University while serving in the U.S. Air Force. The aerial gunner flew 300 missions in Vietnam on an AC119G gunship and received the Distinguished Flying Cross and 10 awards of the Air Medal.
He earned a bachelor degree in business administration in 1973 from Louisiana Tech and went on to graduate from U.S. Air Force Pilot School in 1975. Stationed at Barksdale Air Force Base in Bossier City, La., Psalmonds flew long-range B-52s.
In 1984, Psalmonds founded JPJ Investments, a professional firm in Shreveport, La., specializing in financial services, retirement, and estate planning. He graduated from the College of Financial Planning in Denver, Colo., in 1989, and is a Certified Financial Planner® as well as a life member of the Million Dollar Round Table.
As a proud Louisiana Tech alumnus, Psalmonds served as president of the University Foundation Board of Directors from 1995-1997, and was appointed a privileged life director in 1998. He is a founding member of the Louisiana Tech College of Business Dean's Advisory Board and a champion member of the Louisiana Tech Athletic Club. His gifts created the JPJ Investments Endowed Professorship within the College of Business and has provided funding for numerous scholarships.
Psalmonds is active in the community, with previous service as chair of the Greater Shreveport Economic Foundation, vice president of the Shreveport Chamber of Commerce, past vice president of the Caddo Parish School Board, chair of the YMCA, board member of the Strand Theatre, member of the Caddo Industrial Development Bond Board, and elder at Yellow Pine Christian Church in Sibley, La. In 1995, he was recognized as Volunteer Leader of the Year by the Louisiana Industrial Development Executives Association.
Currently serves as an Advisory board member for the Place of Hope, West Palm Beach, Florida. He resides in Shreveport and West Palm Beach, Florida, with his wife, Angie, and has three children and nine grandchildren.
Third-party rankings and/or recognitions are no guarantee of future investment success and do not ensure that a client or prospective client will experience a higher level of performance or results. These ratings should not be construed as an endorsement of the advisor by any client nor are they representative of any one client's evaluation.